What's On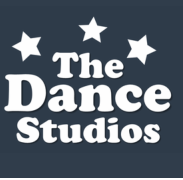 Now in their 19th year, The Dance Studios present their 2016 showcase of Ballet, Tap, Jazz, Limbering, Singing and Modern dance. From the youngest baby class of 3 year olds to Juniors, Inters, Seniors and Adults, The Dance Studios students will be performing routines from their entire range of classes. A show not to be missed!!
VIbez Danceworks invite you to come and watch BURN IT UP in Nottingham! Showcasing lots of styles of dance from Poppin', Lockin' and Breakin' to Ballet, Contemporary and Musical Theatre. The range is HUGE! So get your tickest booked now and you can look forward to getting HOT whilst we BURN IT UP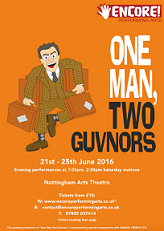 The play follows the bubbly Francis, an unemployed man on the search for a job to feed his longing obsession of food. He comes across a gentleman of the upper class background and soon takes to being his servant, but then later gets offered a second job by another strange 'master', hence becoming 'One Man, Two Guvnors'. Francis, now, must find a way of keeping the two masters from meeting each other. Full of laughs and joy, this play touches a funny bone of all different types of people with a variety of interests - this show is certainly not one to miss…
Set in 1816, 1936 and 2007, DECLINING THE FUTURE examines the psychology behind and the consequences of denial. The story in each century is self-contained, but linked by the inability or unwillingness of specific characters to heed the warning of others and face up to what is coming. There is a sense of advancing apocalypse as the denials involve increasingly ominous stakes. Four actors play different characters in the three different times zones. The first, a manufacturer refuses to see the remedy for his ailing business, the second - a Jewish wife of a famous German surgeon believes herself safe from the Nazis and the last, varying attitudes towards global warming are explored in the aftermath of the 2007 floods.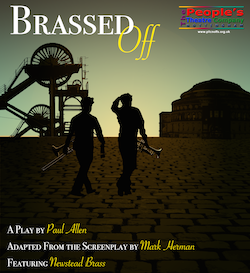 A play by Paul Allen, Adapted from the Screenplay by Mark Herman
Directed by Chris Mercer
Featuring Newstead Brass
In a village in Northern England, the conductor of a colliery brass band, has difficulty maintaining the morale of his musicians when the economic future of the area is threatened by the possibility that the local coal mine will be closed. When a former resident returns to assess the mine, she get involved with her former flame, and also the band, joining them in their last hurrah at a national competition.
Presented by arrangement with Samuel French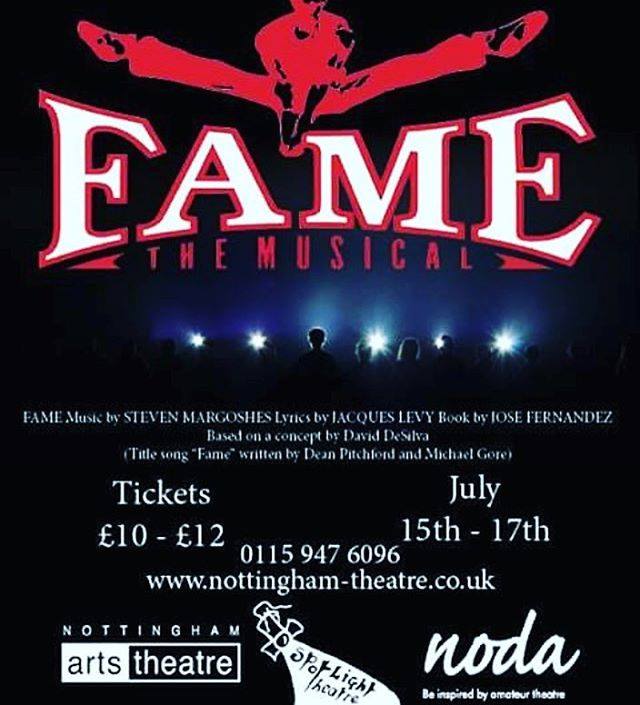 Spotllight Theatre Company present FAME the Musical. FAME Music by Steven Margoshes Lyrics by Jacques Levy Book by Jose Fernandez. Based on a conept by David DeSilva. (Title song "FAME" written by Dean Pitchfrod and Michael Gore) This amateur performance is arrangement with Josef Weinburger Limitied
Kilimanjaro Live and Gag Reflex present The Boy with Tape on his Face is TAPE FACE The show the world can't stop talking about. This is stand-up comedy with no talking, drama with no acting and punch lines with no words. The artist formerly known as The Boy with Tape on His Face brings you a multi-award winning, multi-hyphenate spectacle that needs to be seen to be believed. Join TAPE FACE as he conjures uproarious & moving tableaux using only the most everyday of objects and the most popular of songs. Think you've seen TAPE FACE? Think again. This year promises to be a bigger, brighter and more spectacular re-imagining of his unique and special brand of silent comedy. This truly is comedy made for everyone, be prepared to get involved and enraptured as you step inside a comedy world unlike any other. Visually stunning, heart-stopping, and hilarious - you'll laugh, you'll cry, and when it's all over you'll be completely lost for words. Total sell-out at the Edinburgh Festival Fringe for four years in a row, four sold-out UK tours, a smash hit run in London's West End, a critically acclaimed marvel around the world (New Zealand, Australia, Sweden, South Africa…) As Seen On: The Royal Variety Performance (ITV) Live @ The Fringe (BBC3) The Comedy Prom (BBC2) with Tim Minchin The John Bishop Show (BBC1) "A truly magical experience" - Chortle ????? "Has to be seen to be believed" - Adelaide Advertiser ????? "Endlessly inventive, hysterically funny." - Time Out ????? "This Boy is going places" - The Times ????? "Wills is a slapstick virtuoso" - The List ????? "A show that's a delight from start to finish, that can be enjoyed by absolutely everybody." - The Scotsman ????? "As timeless as it is wordless, as disarming as it is funny" - The Guardian ????