What's On
AVENUE Q is the story of Princeton, a bright-eyed college grad who comes to New York City with big dreams and a tiny bank account. He soon discovers that the only neighborhood in his price range is Avenue Q; still, the neighbors seem nice. There's Brian the out-of-work comedian and his therapist fiancee Christmas Eve; Nicky the good-hearted slacker and his roommate Rod—a Republican investment banker who seems to have some sort of secret; an Internet addict called Trekkie Monster; and a very cute kindergarten teaching assistant named Kate. And would you believe the building's superintendent is Gary Coleman?!? (Yes, that Gary Coleman.) Together, Princeton and his newfound friends struggle to find jobs, dates, and their ever-elusive purpose in life. This multi-award winning musical and smash hit comedy features songs such as "Purpose", "There's a Fine, Fine Line" & "The Internet is for Porn". Please note this show contains adult humour and may not be appropriate for younger audiences.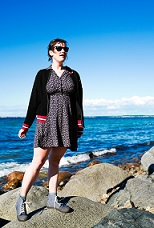 JOSIE LONG: SOMETHING BETTER This is a show about optimism and hopefulness and about looking for people and things to look up to. It's about wanting more from life than it might be up for giving out. It's about struggling with realising what you are, who you are and what you can't change about yourself, and about really feeling like an outsider for the first time. I'm 34, I wanted to have kids by now, and be in love, and have a country that didn't vote with the far right parties to march us all off a cliff. And be able to do all the awesome stuff that activists do, that I can't do, too. I thought we would have won by now. And I wanted to be taller and better looking. Following the international sell-out success of her previous show Cara Josephine across the UK, Europe, in Australia and New York, the star of BBC Radio 4's Romance and Adventure, All of the Planet's Wonders and presenter of Shortcuts, tours her eighth solo stand-up show nationwide. 'An original and unflagging spirit, oozing enthusiasm and intellect… Josie Long builds delightful comedy worlds' **** The Times 'Every bit as funny as heartfelt' **** The Guardian 'Josie Long is one of the finest stand-ups on the circuit. Razor sharp and mercilessly self-deprecating' The Telegraph 'Disarmingly eloquent, verbally dexterous, a gem of the British comedy scene' New York Times, Critics' Pick www.showandtelluk.com / www.josielong.com / @josielong / @show_and_tell
The musical based on one of the world's favourite fairy-tales, Hans Christian Andersen's The Ugly Duckling. Ugly is born, of course, as a Duckling but is soon becomes clear that he is no ordinary Duck. Mocked on the farmyard, pursued by the ever-hungry Cat, Ugly finds himself lost on a nearby marsh in the middle of a duck-shoot and embarks on an odyssey through the countryside, meeting a battery of colourful characters and finding himself, and love, along the way. Directed by Maddie Monte Musical Director David Hails Choreography Bethany Wear This amateur production is presented through special arrangement with Josef Weinberger ltd and MTI
The world's best selling mystery ever, 'And Then There Were None' has sold over 100 million copies to date. Widely considered to be Christie's masterpiece, her own stage adaptation of this dark and captivating tale will thrill and enthral, as murder unfolds...

A group of 10 strangers is lured to a remote island off the coast of Devon. Upon arrival it is discovered that their host, an eccentric millionaire, is missing. At dinner a recorded message is played accusing each of them in turn of having a guilty secret and by the end of the evening ten guests become nine. Stranded on the island by a torrential storm and haunted by an ancient nursery rhyme, one by one the guests begin to die. And with only the fallen believed to be innocent, who amongst them is the killer?